The growing premium cigar category can provide c-store owners the opportunity to increase sales and profits.
As the latest innovations in packaging technology allow convenience store owners to get a bigger share of the sales in the growing premium cigar category, Swisher has developed an overview of supporting data and information to help c-stores expand their OTP category offerings.
Data compiled from many sources shows that the premium cigar category is growing and can be profitable for c-stores. Premium cigar adult consumers can provide high value for c-stores as they purchase other high-ticket items, meaning each visit generates a larger and broader market basket that equates to higher sales and higher profits for the c-store.
There is also strong demand to sustain a premium cigar selection. The Cigar Sense Survey 2014 shows that 41% of adult tobacco consumers enjoy a premium cigar every day with 93% enjoying one premium cigar at least once a week.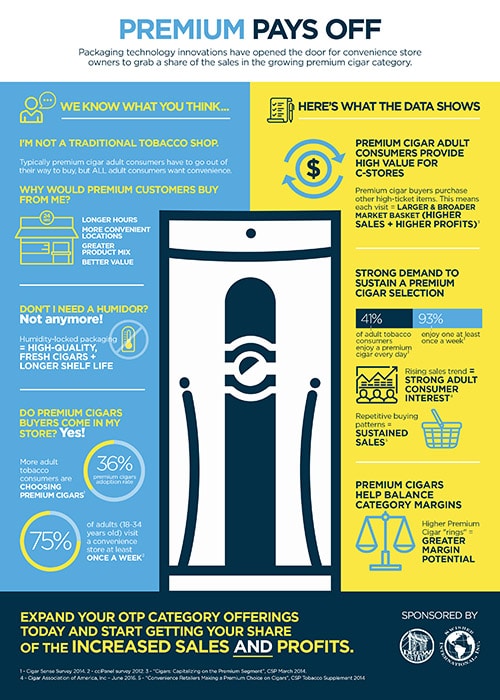 A June 2016 report by The Cigar Association of America, Inc. highlights how the rising sales trend of premium cigars means stronger adult consumer interest. And premium cigars help balance category margin with higher premium cigar "rings" having greater margin potential.
So how can a c-store owner capture more of the premium cigar consumer base?
Typically, premium cigar adult consumers have to go out of their way to buy cigars, yet all adult consumers want convenience. Premium consumers would rather buy from a c-store due to its longer hours, more convenient locations, greater product mix and overall better value.
And since premium cigars no longer need a humidor, c-stores can stock premium cigars as the humidity-locked packaging allows for high quality, fresh cigars and a longer shelf life.
But do premium cigar buyers visit c-stores? The Cigar Sense Survey says that more adult tobacco consumers are choosing premium cigars with a 36% premium cigars adoption rate. In addition, 75% of adults (18-34 years old) visit a convenience store once a week (source: cciPanel survey 2012).
C-store owners now have an ideal opportunity to expand their OTP category offerings and increase their sales and profits.