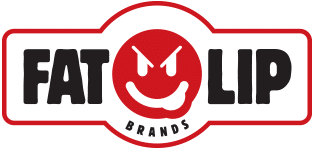 WELCOME TO THE ORDER OF FAT LIP.
The opportunity is out there. All around us. It is ours to take because we always give more. We have that right kind of crazy that we unapologetically wear on our sleeve. Or more accurately, packed firmly in our lip. It is a statement that we aren't hiding or backing down from anyone. We'll stand up to the big guys with confidence that we offer more. We challenge ourselves to be smarter, more hands on, more creative, and bring more value every day. Fat Lip Brands seeks to challenge category norms to create maximum value for our partners and adult consumers.
Committed to our mission. We believe in each other. We believe in doing what's right. We achieve our goals. We challenge ourselves to make things better for each other.
This is the foundation of our Order. The bond we share no matter where we are. Together we boldly stride into the world finding new ways to do more. We live for the challenge. We love the thrill and the adventures along the way.
We make products for those adults who aren't subtle about who they are, what they do and what they want. It is our mission to bring value to our consumers by improving lifestyles and experiences in our community every step of the way.
With operations in Wheeling, West Virginia, and tobacco sourced in the U.S., we're maintaining our long-standing commitment to supporting American farmers. And, although our brands are built for a modern lifestyle, they are still grounded in quality and affordability. We offer smokeless experiences in a variety of products: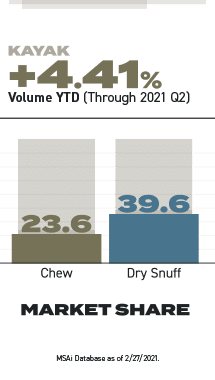 Moist snuff: Kayak, Creek and Gold River were rebranded by listening to what adult consumers want, and delivering products made for their modern lifestyles. All with the finest blends of 100% American grown tobacco, Fat Lip Brands Kayak and Creek offer both fine cut and long cut moist snuff, while Gold River delivers the unique Western Cut in a can. This lineup provides the variety and quality to meet every adult consumer's lifestyle needs.
Chew: only Fat Lip Brands can deliver products with fans that span generations like Mail Pouch, Chattanooga Chew, Bowie and Lancaster while forging a new legend in the best-selling Starr lineup. With brands built on over 120 years of history, our loose-leaf chewing tobacco continues a legacy of quality today.
Dry snuff: classic for good reason, Navy, Railroad Mills, Buttercup, Square and Honey Bee have been around for ages, yet never get old. Our dry snuff products continue a rich tradition of delivering the finest products to the market.
With Fat Lip Brands, our partners can count on a lineup offering the product for every style; data-driven insights to stock the right mix for their adult consumers; responsive, expert guidance from category captains; innovations like our easy open moist snuff can and the reliability of our product guarantees. Combine all that with our award-winning trade programs, and we ensure our partners sustained success too.
PACK A FAT LIP. TIME TO HEAD OUT.