EMBRACING FREEDOM. CELEBRATING SUSTAINABILITY.
Roll free. Roll often. For Hempire rolling papers, this is more than a rallying cry. It's an invitation to embrace the clean, sustainable smoke at the center of hemp culture and innovation.
Hempire is the first all-natural, 100% hemp rolling paper available in the United States that delivers what adult customers are looking for in a clean smoking experience. Hempire currently offers 11 different quality papers, rolls, and tips that are manufactured with international expertise. Using vegan, organic and pesticide-free hemp, Hempire also uses innovative packaging with visible brand elements and unique cello wrappers to combat paper staleness and ensure maximum freshness.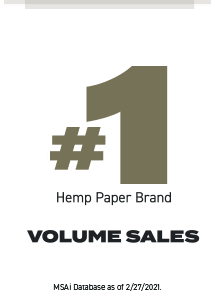 Hempire is the #1 hemp rolling paper brand by volume in the United States. In the last year, Hempire has increased sales by 656.9 thousand booklets and distribution is up 11.9% in stores carrying hemp paper. The rolling paper category as a whole continues to grow with 51.6 million booklets sold in the last 26-week period.  This is up 11.8% vs YAG.
Hemp is a variety of the cannabis sativa plant species that is grown specifically for industrial use and has been part of the American landscape for more than 2,000 years. It can be used to make a wide range of products and is one of the fastest growing plants on Earth. It can be refined into a variety of commercial items and Hempire continues to look beyond rolling papers for new and exciting ways to bring hemp products to the marketplace. Hemp has limitless potential and Hempire is committed to showcasing it for its retail partners and adult consumers.
Beyond its products, Hempire is a brand for freedom seekers, risk takers, and pioneering adventurers to gather together to make great times even better through hemp. Hempire is where individual expression brings people together under a single value – freedom. The freedom to pursue dreams, follow passions, and create a sustainable future for all. To that end, we have recently partnered with Alpine Hemp Company for a line of accessories that includes hats, t-shirts, rolling trays and flower grinders. Hemp culture is here to stay and Hempire is at the middle of it every single day.
Hemp rolling paper products are primarily sold through traditional brick and mortar convenience store, smoke shops and dispensaries. Our retail partners, the vast majority of whom are small businesses, are the cornerstone of our commitment to local communities.  All channels include strict age verification at the point of sale. A limited number of third-party licensed businesses are allowed to sell online provided they have strict age verification protocols in place. Hempire is now sold in over 24,000 stores across the U.S.
Hempire is a perfect demonstration of Swisher's commitment to innovation. We are building a growing lifestyle brand with hemp at its core, creating connections with adult consumers and partnering with our retailers to drive growth and customer affinity.  Hempire ultimately gives adult consumers the freedom and flexibility to enjoy pure hemp rolling papers that complement their lifestyle. Welcome to the Hempire!
Source: Swisher – MSAi Database as of 4/24/21.