CONVENIENCE AND SATISFACTION. NOW ON DEMAND.
Every time. Every place. Every taste. Rogue Holdings delivers 100% tobacco-leaf free and sugar-free nicotine products adult consumers can enjoy on their terms — without smoke, liquid or vapor. Rogue Nicotine on Demand® products provide a flexible alternative for adult consumers that are looking for a modern, convenient way to enjoy nicotine.
Developed with pharmaceutical expertise and a passion for quality, Rogue Nicotine on Demand is the first full suite of modern oral nicotine (MON) products for the active adult lifestyle. Be it a professional setting, out on a date, or in at a guys' game night, Rogue products offer high-quality tobacco-free nicotine and are perfect for travel and versatile enough for a wide range of settings. Rogue Holdings is the only modern oral nicotine (MON) manufacturer to have all four forms of product – pouches, gum, lozenges and tablets. In addition to being the only brand to offer all four forms, Rogue Pouches are sold in tins of 20 which is up to 33% more than other leading brands.
Rogue ingredients are sourced from nicotine that is steam extracted from high-quality tobacco leaves.
The Modern Oral Nicotine category provides for products that comes in a variety of shapes and sizes, but their key traits are that they are non-combustible, they contain no tobacco leaf and are offered in a variety of adult-oriented blends and in multiple forms. Adult consumer nicotine users also love that modern oral nicotine pouches can be enjoyed almost anywhere and anytime.
Adult consumers have different preferences regarding the nicotine strengths they enjoy. Rogue offers adults a selection of products with ideal nicotine levels for everyone, so adult consumers can have nicotine satisfaction on-demand. Rogue Nicotine on Demand® products are offered in various nicotine levels including 3mg and 6mg spit-free pouches, 2mg and 4mg slow dissolving lozenges, 2mg and 4mg chewing gum, and 2mg and 4mg quick dissolving tablets. All Rogue products are spit-free and stain-free. Go Rogue so your adult consumers can get everything that traditional tobacco products offer in a cleaner, more low-key manner.
Rogue Nicotine on Demand® offers various flavors for every product, so your adult consumer can further customize their modern oral nicotine experience.
Pouches: Wintergreen, Peppermint, Honey-Lemon, Mango, Apple, Cinnamon, Berry, Spearmint
Lozenges: Wintergreen, Peppermint, Citrus
Gum: Wintergreen, Peppermint, Fruit
Tablets: Wintergreen, Peppermint, Berry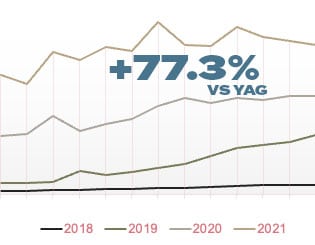 Modern oral nicotine is continuing to grow as adult consumers look for convenient alternatives. Rogue Holdings brings innovative offerings for adult consumers — and unique opportunities for trade partners. Sugar-free and free from restraint, adult consumers can choose bold flavors in a variety of formats, including pouches, gum, lozenges and quick-dissolve tablets. When not in use, modern oral nicotine pouch containers do not require special storage conditions, and they may be kept at room temperature, making the purchase, use and storage of the products convenient and easy. The MON category is expected to grow 40% to 337 million units in 2022, which represents approximately $1.5 billion in retail sales.
Source: Swisher – MSAi Database as of 1/1/22. Retail data 52 weeks ending 1/1/22.