Swisher consistently stands out in the industry for our people, products, trade programs, and importantly, for our attention and service to our supply partners. This year, we are honored once again by Convenience Store News as one of 16 recipients of their prestigious "2022 Category Captains" awards program  — and this is the eighth year we've won!
The Category Captains award program recognizes best case examples of retailer/supplier collaboration, and acknowledges  category leaders who have earned retailers' trust and helped their customers grow sales and profits in the entire category.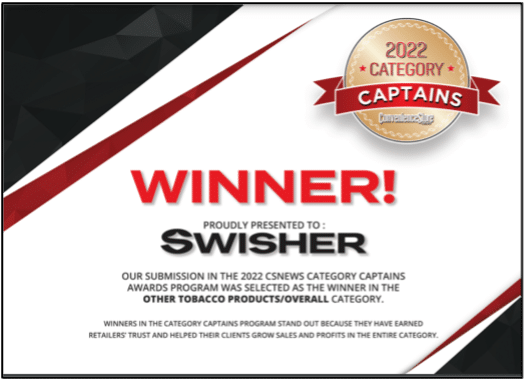 The awards honor 16 suppliers in 17 product categories.  The judging criteria is based on several different aspects including:
Product innovation – creativity in merchandising, marketing, promotion and advertising
Use of consumer insights to drive entire category sales
Innovative and dynamic category management tools
Demonstrating commitment to meeting the specific needs of consumers
Efficiency lifting sales for the entire product category
Fact based evidence of market specific or account specific results
Swisher's Success Simplified program, coupled with our focus on analytics, space planning, and execution were just a few of the many factors that led to our success in the OTP category and in the Captains Category recognition.
About Swisher:
Swisher is an international leading lifestyle company for adult consumers. Best known for their Swisher Sweet Cigars, the company is headquartered in Jacksonville, Florida. Swisher also has a global manufacturing presence in Santiago, Dominican Republic; Esteli, Nicaragua and Wheeling, West Virginia. Swisher's superior customer relationships matched with an unwavering commitment to innovative thinking and action have driven the company to grow and adapt to the evolving preferences of adult consumers for nearly 160 years. Visit https://swisher.com/about/ to learn more.
Source: Swisher
459 E 16th Street
Jacksonville, FL 32206
Contact Us: mediainquiries@swisher.com