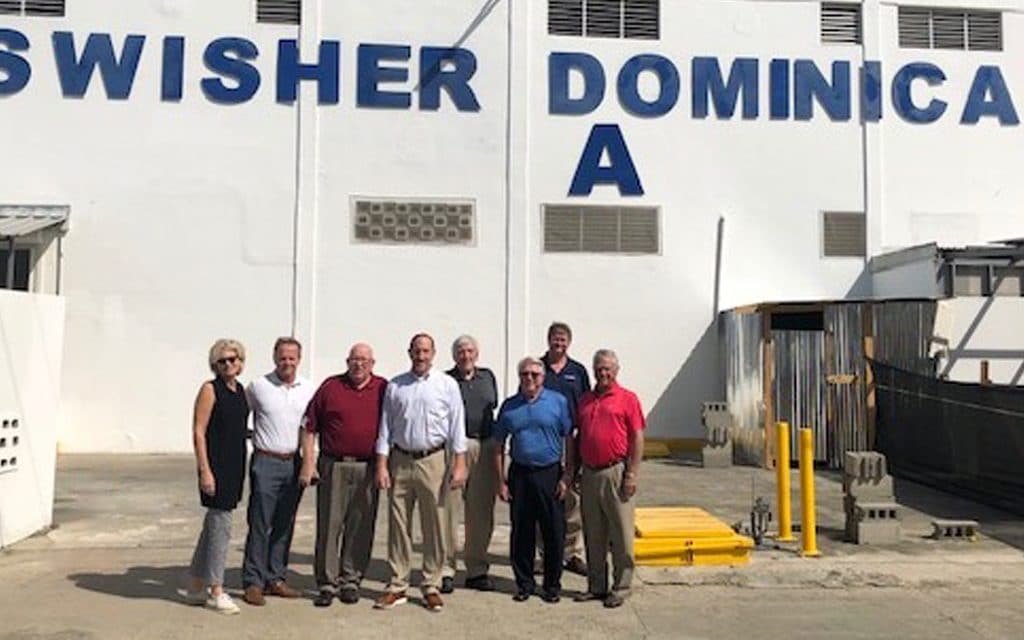 Pictured at Swisher's Dominican Republic manufacturing facility are (from L-R) Kimberly Bolin, CDA's president and CEO; Kevin Barney, Atlantic Dominion Distributors; Bill Dunn, Swisher International; Scott Carrico, Richmond-Master Distributors; Gene Lange, CDA's legal counsel; Randy Outlaw and David Pickard, Swisher International; and Charlie Casper, Hardec's.
CDA's executive committee visited Swisher's manufacturing facility in the Dominican Republic earlier this week. Bill Dunn and the team at Swisher in both the United States and Dominican Republic provided an intensive experiential demonstration and explanation into their operations. It was a unique experience and one that provided tremendous insight for the attendees. "CDA strives to facilitate and support healthy relationships between distributors and suppliers in the convenience channel, and this Swisher visit falls right in line with that key association mission," noted Kimberly Bolin, CDA president and CEO.
About Swisher:
459 E 16TH STREET JACKSONVILLE, FL 32206 | WWW.SWISHER.COM
Swisher is an international leading lifestyle company for adult consumers. Best known for their Swisher Sweet Cigars, the company is headquartered in Jacksonville, Florida. Swisher also has a global manufacturing presence in Santiago, Dominican Republic; Esteli, Nicaragua and Wheeling, West Virginia. Swisher's superior customer relationships matched with an unwavering commitment to innovative thinking and action have driven the company to grow and adapt to the evolving preferences of adult consumers for nearly 160 years. Visit https://swisher.com/about/ to learn more.
Source: Swisher
459 E 16th Street
Jacksonville, FL 32206
Contact Us: mediainquiries@swisher.com
###