Hempire is now the #1 Hemp Rolling Paper brand by volume! During the last 26-week period, Hempire increased sales by 1.4 million booklets, is up 29.8% distribution in stores carrying Hemp paper and is now sold in 10,500 stores total.
Looking at the Rolling Paper category as a whole, 46.6 million booklets were sold in the last 26-week period, which is up 3.4% vs YAG. Hemp papers are playing a significant role in the category, increasing 73.5% vs YAG.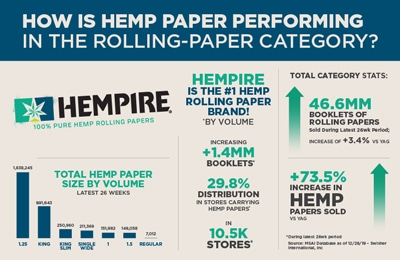 Source: MSAi Database as of 12/28/19 – Swisher International, Inc.