The University of North Florida's Center for Entrepreneurship and Innovation (CEI), in partnership with Swisher, held its second Swisher Cohort Series Pitch Competition for Underrepresented Entrepreneurs on Wednesday, October 27th from 6 p.m. to 8 p.m. The UNF Center for Entrepreneurship and Innovation program is designed to help early-stage companies take their business to the next level by providing individuals with the resources needed to improve their business knowledge. The first pitch competition took place in April this year with ten start-ups. The second pitch competition, the Growth Cohort, consisted of nine companies, with some participants from the first pitch competition as well as new participants.
At this event, participants pitched the development of their business with the chance to win prize money as judged by a panel. The event consisted of five-minute pitches to members of Swisher, the UNF community, guests, family members, and friends. Swisher awarded funds to three entrepreneurs to support the development of their businesses. The top three companies received $3,000, $2,000 and $1,000, respectively.
Congratulations to the Growth Cohort Pitch Competition winners!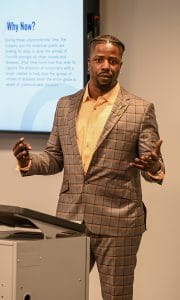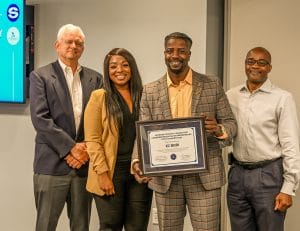 First Place: Markin Barnes – Kic Brush
Markin Barnes was a Swisher Startup Cohort member who continued building his company in the Swisher Growth Cohort. As an experienced barber, Markin developed a product designed to help eliminate the spread of disease and viruses from person to person and proper sanitation of tools used by industry specialists.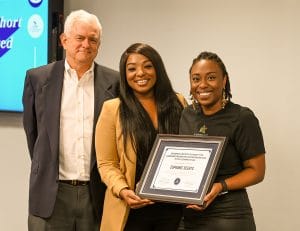 Second Place: Raven McCall – Euphonic Scents
Euphonic Scents is a female, Black-owned small business, established July 28, 2020, in Jacksonville, FL. Euphony represents a sound that is pleasing to the senses and the curated adornment of musical aromatherapy. With Euphonic Scents, the consumer can experience environmentally friendly home decor products including luxury soy coconut wax blend candles, wax melts, and handcrafted reed diffusers. Each product is assembled with a scannable QR code.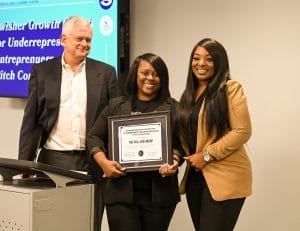 Third Place: Tiara Pollard – The Pollard Group
The Pollard Group LLC dba Powerhouse Transport is a trucking company within the transportation & logistics industry. Powerhouse Transport provides customized transportation solutions specifically with 26′ straight trucks. They focus on offering professional, punctual, and reliable service for shippers' hauling needs within the southeastern region of the USA.
About UNF CEI and Swisher Partnership
In November 2020, Swisher joined UNF's Center for Entrepreneurship and Innovation to give underrepresented entrepreneurs the opportunity to compete and be awarded funding for their businesses. The program reinforces Swisher's commitment to inclusion and diversity, as well as the CEI's commitment to supporting early-stage companies and entrepreneurs in Northeast Florida. Swisher's pledge to UNF is part of its Inclusion, Diversity, and Transformation Initiative to help create change and opportunities within businesses and the community.
UNF's Center for Entrepreneurship and Innovation is designed to help early-stage companies take their business to the next level. Business plan development, co-working space, help from student interns, professional support, and networking opportunities are services provided by the program to support and nurture start-up businesses. For more information on UNF's Center for Entrepreneurship and Innovation visit www.unf.edu/coggin/CEI/.