Swisher recently received a JEA Pretreatment Award for its achievement of 100% environmental compliance. Swisher earned 14 Stars for its work on maintaining an environmentally sustainable business as part of the National Pretreatment Program.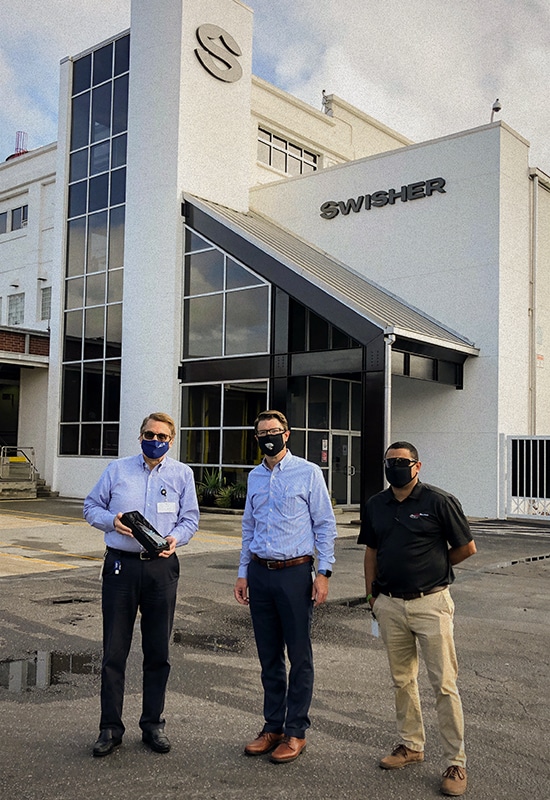 The National Pretreatment Program, which began in 1972, uses permits and compliance activities at the local, state and federal levels to prevent untreated pollutants from entering publicly owned treatment works. The ultimate goal is to ensure everyone is provided clean, safe-to-use water.
Swisher is proud to be a part of this initiative and honored to receive an award that showcases its effort to be as sustainable as possible. Swisher is committed to sustainability projects that minimize environmental impact, even recently announcing a partnership with A1A Solar to commission a pilot-sized 6,000 square foot solar photovoltaic system.
JEA came out to participate in a socially distanced awards ceremony at the recently renovated Swisher headquarters in Jacksonville where the award was proudly received.
To learn more about how Swisher and other companies are working with JEA to prevent pollution visit https://www.jea.com/about/wastewater/industrial_pretreatment/.
About Swisher:
Swisher is an international leading lifestyle company for adult consumers. Best known for their Swisher Sweet Cigars, the company is headquartered in Jacksonville, Florida. Swisher also has a global manufacturing presence in Santiago, Dominican Republic; Esteli, Nicaragua and Wheeling, West Virginia. Swisher's superior customer relationships matched with an unwavering commitment to innovative thinking and action have driven the company to grow and adapt to the evolving preferences of adult consumers for nearly 160 years. Visit https://swisher.com/about/ to learn more.
Source: Swisher
459 E 16th Street
Jacksonville, FL 32206
Contact Us: mediainquiries@swisher.com