Recent data has shown that in c-stores, branded-value MST has grown (+3.1%) while premium MST is declining (-2.8%). Branded-value MST totaled 46.6MM cans which is up +1.4MM latest 13 weeks compared to YAG in c-stores.
Approximately 1,000 more c-stores are selling branded-value MST, equaling 89.5K during the most recent 13-week period, averaging -40.1 cans per store per week!
Long-cut accounts for approximately 66% of BV MST volume followed by 27% fine-cut and 7% pouches in c-stores.
How does this equate to your favorite Swisher International MST products? Kayak MST has increased +7.7% and has added 2,000+ stores selling! That's an average of 16.5 UPSPW! CREEK MST has increased +54.2% and has added 4,000+ stores selling!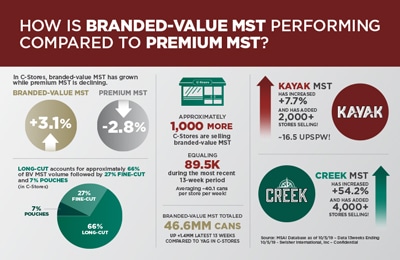 *All data sourced from MSAi Database as of 10/5/19 – Data 13 weeks ending 10/8/19 – Swisher International, Inc.